THE MOTHER BLESSING
When a woman chooses to step onto the path of motherhood for the first, second or sixth time, a remarkable transition begins, weaving one chapter of life to the next. During this time it is important to create intentional ceremonies to honor this powerful shift: rituals that honor and support a woman's physical, emotional and spiritual growth alongside her growing child.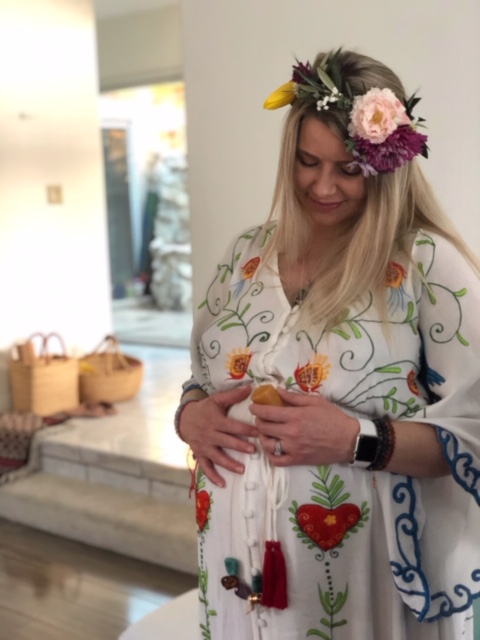 when we honor the mother, we honor all that is.
Photo by Amber Lee @plantascompass
WHAT IS A MOTHER BLESSING?
A mother blessing is a ceremonial day of ritual designed to honor, nurture and shower the mother-to-be (or be again) with loving care before her baby arrives. Surrounded by her closest female friends and family members, she enjoys a sumptuous day of pampering and care, including a floral foot bath, cornmeal foot scrub and flower crown. She is acknowledged by each of her guests with their words of support, affirmation, wisdom and prayer. The group completes the day with a cord binding ritual, candle gift, nourishing feast and relaxation.
WHY A MOTHER BLESSING?
A Mother Blessing intentionally weaves a web of loving care around the pregnant woman, imbuing her with an energy that will carry her forward into her postpartum days. The mother blessing is distinct from a baby shower in that the focus is solely on the mother. The ceremony is held with pure intention: to honor the sanctity of life in motion. We all come from mother. We all return to mother earth. When we honor the mother, we honor everything that is.
*The ritual is inspired by the traditional Dine Navajo 'Blessing Way' which was utilized for the purpose of honoring many different transitions in First Nation culture, including motherhood. In respect of this cultural traditional, we do not call this ceremony a Blessing Way, but a Mother Blessing.
MOTHER BLESSING CEREMONY
A uniquely bespoke ceremony performed at your home or the location of your choice includes all materials, invitation design, production, communications with guests, set up and breakdown. Feast foods are ordered separately.
FEAST FOODS
Celebratory food and drink mark all fine gatherings of intention. Together we will design a menu for your ceremony including nourishing treats from our medicinal menu – bonbons, cakes, elixirs, medicinal milks, and more.
FLOW OF THE DAY
11:30am: Celebrant arrives

12:00pm: Space set up + decorations

1:00pm: food and drink are prepared

2PM: welcome guests

3PM ceremony

4PM FEAST

5PM CLOSE
activities:
flower crown creation

rainbow mineral milk + flower foot soak

poetry, song or prayers recited

cord binding ceremony

candle gifting


optional: indigo onesie dye bath (+$75)

optional: affirmation stone art (+$25)

optional: guest book/ photo wall (+25)
reserve your special day today: